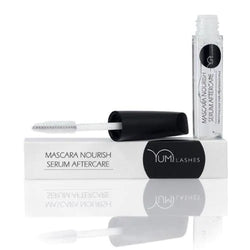 Yumi mascara nourishing aftercare serum
The Nourish Aftercare Mascara has a natural Biotin formulation that safely and gently stimulates the growth of the lashes. This serum is fantastic for clients who have recently had extensions and the lashes appear to be damaged or sparse, or for clients who are looking for a safer alternative to harsh growth serums. It also keeps lashes extremely hydrated and nourished post service. After about 15 days of use, clients will notice improvement in the overall health of the lashes.
The ultimate nourishing mascara made in France.
- Nourishes and deeply moisturizes 
- Strengthens lashes from the inside
- Stimulates eyelash growth
Using Advice;
Use after-care serum mascara every night for longer, stronger lashes.
Contains GHK tripeptide, naturally present in the human body that promotes healing and reconstruction of eyelashes.
Guaranteed results with 3 times more volume, eyelashes up to 43% longer and 40% thicker in just 15 days.